Published April 1, 2008
MGI Heralds Release of Bezier Wiring Toolkit for LabVIEW
Toolkit will shatter previous inter-VI data transfer rates and improve performance and reliability for time-critical applications
SYRACUSE, Utah – April 1, 2008 – MGI (NASDAQ: MGIROX, ↑ 23.67) announced today the release of the new and long-awaited Bezier Wiring Toolkit for LabVIEW. This fresh and innovative nugget of technology harnesses the power found in the research and discoveries of some French guy half a century ago.
LabVIEW developers have long had to deal with excessive delay in moving data around within virtual pathways called "wires". With data speeding down a wire on its way to some anxiously awaiting function, each and every femtosecond is like an eternity. Ninety-degree bends in wires require the data to slow down on approach in order to navigate the turn without hurtling off into the white oblivion of the Block Diagram. "It makes me sick just thinking about what that roller coaster ride must be like," stated David Moore, President of MGI. Once installed, the toolkit will jump into action and ease those rigid wiring course changes into Bezier curves that are smoother than a Y2K transition. Please see the accompanying graphics for a visual demonstration of the enhancement.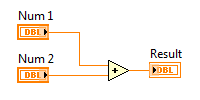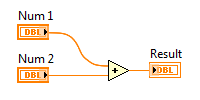 The impact of this new toolkit is expected to be felt immediately and internationally among all associated or not with the LabVIEW community. Enjoying the increase in his code's efficiency and, hence, some additional spare time, Rudy Saltmarsh, a Systems Integrator in urban Los Angeles, explained, "I had forgotten how nice it is to breathe in the outside air here." Lance Armstrong, another LabVIEW user who dabbles in cycling's Tour de France from time to time, had this to say, "Once I discovered the power of Bezier route enhancement, well, the rest is history. Paris never came into view on Day 23 with more ease and comfort than when I had implemented MGI's masterpiece." Hailing this release as both a technical breakthrough and a strategic move of genius from the crew at MGI, Jim Cramer of CNBC chimed in, "You've got a problem with my Bear-Stearns call? Take a number. Want the next really big one? It's right here. Booyah!"
Details on pricing and availability will be made available at the company's website (www.mooregoodideas.com) in the next few days.
About MGI
Experts in Warcraft and ping-pong, MGI is an industry leader in pretty much everything.